WHAT IS THE BEST GLUCOSAMINE FOR DOGS?
Improve Bone, Joint and Skin Health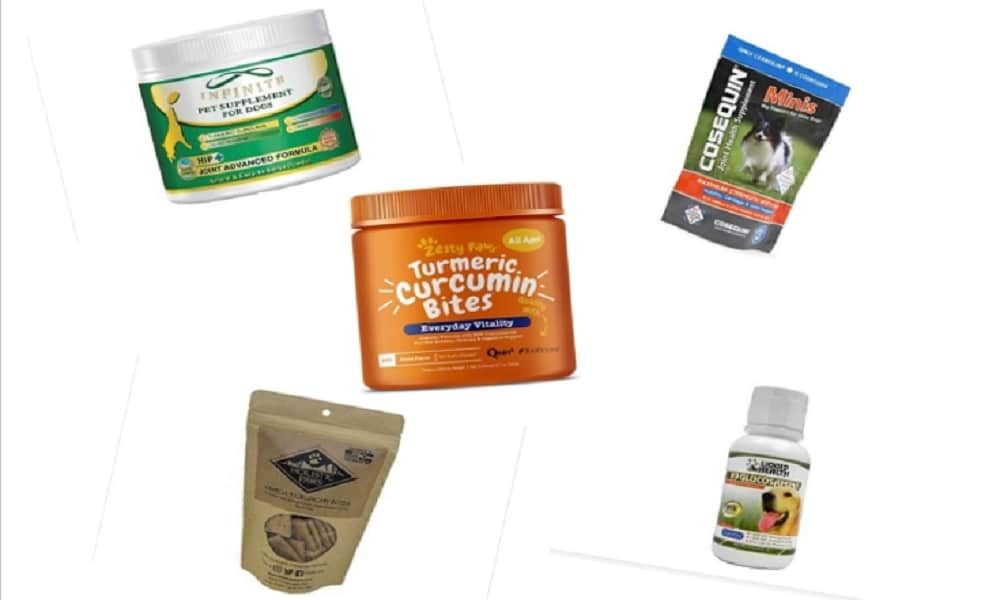 Zesty Paws Turmeric Curcumin Bites: Apart from glucosamine, chondroitin, and OptiMSM, it contains Turmeric, Curcumin, flaxseed, Palm Oil, and a whole lot making it not just a glucosamine mix but a whole wonder food.
Holistic Paws Omega 3 Crunchy Bites Dog Supplements: dog's Go full organic with this mix. Containing organic Ceylon cinnamon, organic apple cider vinegar, plus real peanut butter and unsweetened applesauce to name a few things, your dog gets the benefit of a healthy joint while keeping everything organic in the house.


Prizes here are just estimates and are updated when possible. We are affiliates and may receive commissions on purchases made from our links.
WHAT WE LOVE

Natural ingredients used.
Help reduce joint pain.
Soft chews in bacon and duck flavor.
Very-strong formula.
Anti-inflammatory function.
Improves digestive and immune systems.
WHAT WE DON'T LIKE

Tumeric used can lead to stains when chew is exposed to surfaces.
Natural working means gains take some time to be seen.
The Zesty Paws Turmeric Curcumin Bites do your dog a world of good not just for their joint mobility but their overall health.  Apart from Turmeric and Curcumin, it contains glucosamine, chondroitin, and OptiMSM, a natural pain reliever, and a good amount of vitamin C and E from flaxseed and Palm Oil.

All these promote optimal joint health, a better gut or digestive function, good weight control, and a better immune system.

Free of wheat, corn, and soy, this makes it perfect for dogs who have allergic reactions to these things. It also contains BioPerine, gotten from organic black pepper and natural coconut oil making it easier for it to be absorbed into the system faster and interact with their immune system normally. This removes the feeling of taking a supplement and makes it look like your dog is consuming a wonder food.
WHAT WE LOVE

Specially made for small dogs
Rich in omega fatty acids
Works well as treats for large dogs.
Well priced
Small dogs also experience joint problems, especially when their body has an unusual shape. Examples that come to mind are the dachshund and bulldog breeds. The Cosequin Minis Soft Chews contain glucosamine, chondroitin, and MSM. Chondroitin is the main substance that eases joint pain for small dogs. There is also a small mix of omega 3 fatty acids which help to keep your small dog's coat shiny.

The Cosequin Minis Soft Chews is specially produced for dogs weighing 25 pounds or less. The simple reason is that giving your dog excess glucosamine can easily lead to digestive problems. In all the Cosequin Minis Soft Chews is the best option for small dogs.
WHAT WE LOVE

Perfectly suited for large dogs
Has Anti-inflammatory properties
Keeps their Joints well lubricated
Enables repair of the cartilage
Easy to administer the chewable
Can be used throughout your dog's life
WHAT WE DON'T LIKE

Not good for dog's with a sensitive stomach
Made especially for large dogs who are prone to joint and hip issues. The normal weight for large dogs to take this supplement is 60 pounds and above.
This mix of glucosamine, chondroitin, MSM and hyaluronic acid is just the right amount of dosage for large dogs. This makes giving them a teaspoon or two daily help your large dog gain improved joint functions and it is also cost-effective.
WHAT WE LOVE

Good for dogs with allergies.
Does not smell.
Contains hyaluronic acid.
WHAT WE DON'T LIKE

Must be refrigerated after opening it.
The best glucosamine supplement is one that your dog would easily consume without giving you a problem. Liquid Health Pets Original K9 Glucosamine Dog Supplement fits into this profile perfectly. Whether you pour some on your dog's food and allow them to lick off the liquid itself, you will find that your dog is more likely to be endeared with this Glucosamine Dog Supplement than the others.

Proudly made in the U.S.A, this Glucosamine Dog Supplement does not contain sugar, starch, wheat, gluten, yeast, milk, corn, or soy, making it good for dogs who have allergic reactions to them. It contains hyaluronic acid which helps to keep your dog's joints well lubricated and healthy.
WHAT WE LOVE

Good for any dog size.
Has anti-inflammatory properties.
Human-grade ingredients.
WHAT WE DON'T LIKE

Turmeric powder can lead to staining.
For every pound of dog weight, they are expected to take between 10 to 20 milligrams of glucosamine. With this in mind administering the dosage in chewable or liquid form may not be measurable. This is where the glucosamine Powder form comes in handy. As a measurable form, you may be able to administer this glucosamine dosage whether your dog is small, medium, or large-sized.

Containing the normal glucosamine, MSM, and chondroitin as expected with organic turmeric. Sprinkling this on your dog's food would not only help your dog get the correct amount of glucosamine expected, but you will notice a reduction in inflammation in the dog's joint.

Dr. Tripp says dogs on this glucosamine Powder get up easily from their sleeping position, display a normal gait, are happy to go on walks, and takes on stairs and play.
WHAT WE LOVE

Enhances joint and hip health.
Improves mobility.
Filled with antioxidants.
Reduces pain and inflammation on joints.
National Animal Supplement Council (NASC) Quality Seal.
Tasty chew.
WHAT WE DON'T LIKE

Picky dogs don't like it.
This Glucosamine Joint Supplement does not just help you manage joint problems with your older dogs, it is formulated in such a way that it has multiple benefits for your dogs.

In addition to Glucosamine, it comes with ingredients like green-lipped mussel which is a natural source of chondroitin, Boswellia serrata, and turmeric for their anti-inflammatory and pain-reducing properties, and creatine to build good muscle mass.

Made in the form of poultry-flavored soft chews. This product comes with a quality seal from the National Animal Supplement Council (NASC). This is something rare in the pet food market.
WHAT WE LOVE

Tasty chewable form
All-round natural and organic ingredients
Anti-rheumatic and anti-inflammatory function
Very good for joint pain
salmon oil with EPA and DHA helps reduce pain and inflammation
WHAT WE DON'T LIKE

Expensive
Tumeric can lead to stain
Want to go all organic with your glucosamine supplement? Holistic Paws Omega 3 Crunchy Bites Dog Supplements is just what you need. Filled with the best organic ingredients for your dog's joints. It comes with the basic foundation to manage your dog's joint and hip problems. organic Ceylon cinnamon, organic apple cider vinegar, plus real peanut butter and unsweetened applesauce keeps your dog's skin moisturized and enables it to deal with joint pain, inflammation and allergies. The salmon oil with EPA and DHA will help to reduce inflammation and improves your dog's Immune system.

A complete package in itself, the flip side is it is mainly used by older dogs and comes with a high price tag.
THINGS TO CONSIDER WHEN PURCHASING GLUCOSAMINE SUPPLEMENTS FOR YOUR DOG.

We have so many glucosamine supplements for dogs in the market touting claims of doing miracles for your dog's joints but the bare fact is that not all of them are good for your dog. Buying a glucosamine supplement is not just about rushing to the pet store and picking one on the shelf, there are various factors that you would need to consider before purchasing one.

On the flip side thankfully, there are many people out there dedicated to bringing the best to your dog in the form of a glucosamine supplement. Here are some things you need to consider when purchasing your glucosamine supplement for your dog.

THE INGREDIENTS.

Making sure that the right ingredients are used in the right proportion is key. Having the right ingredients is a sure guarantee that the supplement would have a positive expected effect on your dog. Apart from the well-known glucosamine, other ingredients that should be found here are:


    Chondroitin
    MSM (Methylsulfonylmethane)
    Turmeric

Chondroitin is known to improve the retention of water in the cartilage, this helps to improve the elasticity of the cartilage, this, in turn, helps your dog to absorb any shock to the joint leading to a healthy joint.

MSM (Methylsulfonylmethane) a form of sulfur having anti-inflammatory and analgesic properties, works quite well with older dogs that already have joint problems.

Turmeric soothes joint pains and reduces inflammation and more importantly is in an all-natural form.

These are the main ingredients for a glucosamine supplement and should be what you would be looking out for, any other ingredient is more of an addition with an added benefit.

DOSAGE.

As a rule of thumb, for every pound of dog weight, they are expected to take between 10 to 20 milligrams of glucosamine. Giving your dog the wrong dosage would drastically affect its effectiveness. Give them too small and you don't get any result. Give them too much and your dog experiences other health issues.

To be on the safe side, consult your vet doctor to confirm the amount you should be giving your dog daily.

FORM

Your glucosamine supplement would not make any difference if your dog is not taking them. It doesn't matter what formula or ingredients are used, if your dog is hell-bent on not consuming them, the whole effort to improve your dog's joint health would be wasted.

This is where the form of the glucosamine supplement comes into play. The main forms of this supplement are chewable or tablet forms, liquid and powder form. You may find yourself in a position where you might have to test each.

Some dogs prefer the liquid form to the chewable, some would not want to even take the supplement and might need you mixing it into their food using the powder form. Test to find out which form your dog likes.

SAFETY

In the pet food and supplement industry, unfortunately, not everyone plays by the rules or really cares about the health of your dog. Some may be sourcing the ingredients for making the glucosamine supplement from unsafe places. Or just processing and storing the product in bad places or places below standards expected.

The best thing you can do for the product you want to buy is:
Confirm that the product is FDA approved (or approved by the agency in your country)
Check reviews for the supplement, people who have used it are usually brutally honest on the impact it has had on their dog.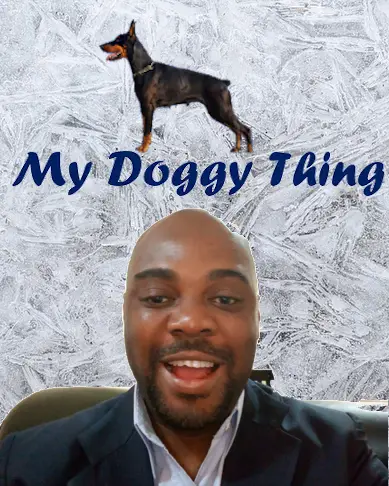 Hi, I am Charles Nwankwo Editor-in-Chief, Mydoggything.com. Gleaning from Professional Dog Trainers, behaviorist, Registered Veterinarians, and Breeders. We are passionate about making dog care easy for you. My job is to make sure that you get the best-updated dog care information to understand and take care of your dog or dogs.