WHAT SHOULD I PUT ON MY DOGS ID TAG?
Stylish Identifications to Keep your Dog Safe
This post contains affiliate links and I will be compensated if you make a purchase after clicking on my links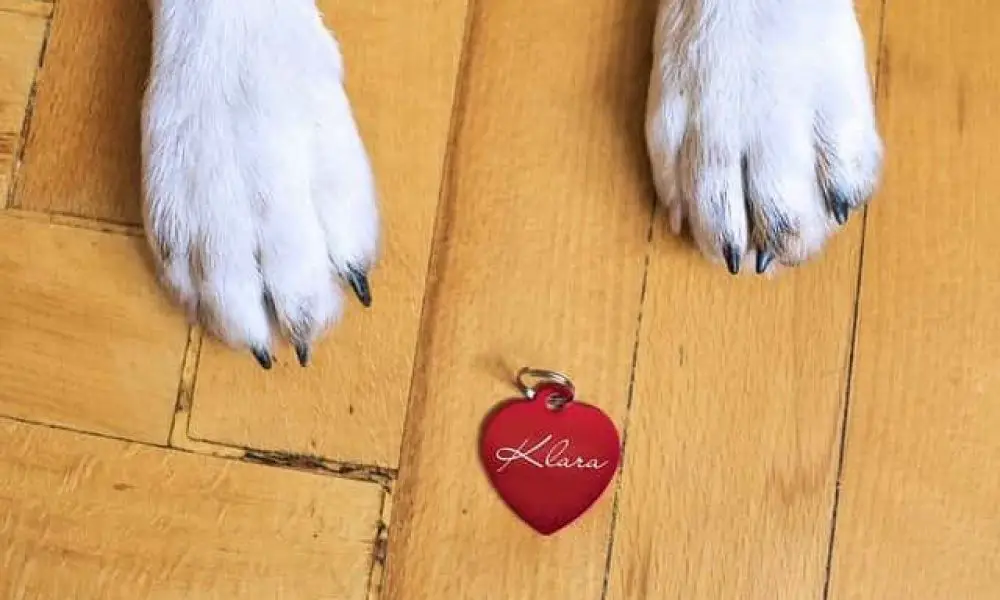 Most times overlooked dog tags are important and can even be a life-saving acquisition for your dog.

You see, there is always this possibility that your dog's adventurous nature ends up making him or her roam around and drift off to places where they shouldn't be. General statistics say that dogs are likely to get lost at least once in their lifetime.

Even though modern technology has provided us with the options of microchips, you will still find that your dog tag would be more effective to get to you. Let's face facts, how many people would take out their time to take a dog to a vet clinic or animal home to begin the process of getting information out of a dog's chip? If you don't know, well the answer is a few to none.

With Dog Id Tags, they only need to look at the information on the tag and make a quick decision whether to reach out to you or not. It is old-fashioned and simply works. This brings us to the main issue here.
WHAT SHOULD I PUT ON MY DOGS ID TAG?
A normal Dog Id Tag has limited space so putting in the correct and important information into this small space is key to it being useful. Some of the information you should consider putting on the Dog Id Tags are:
1 Your Dog's name: This should be the first thing on the tag. Your dog needs a name to be identified by when lost and their name is the best thing to identify them by.
2 Phone number: This may or may not be your personal line, but there should be a number which someone can call to reach you in case your dog gets lost.
3 An address: There are situations where the finder of your dog may want to take the extra length of returning the dog to you. An address in your vicinity whether it be your house address or another address where you can be reached would be suitable here.
4 Chip Information: If you have put a microchip in your dog, you can just state it in a line on the tag.
5 Special Medical need: Is your dog allergic to dust, grass, pollens, etc. Is he or she on some medication?
6 Simple personal message: A simple message like "I'm lost" or "Please call my mom". You get the idea. Something to whip up some form of emotion.
7. Reward: Some people ask "should I put a reward on the dog tag?" if you can why not. It may get some people to bring your dog back to you out of curiosity. Just make it worth it.
Depending on your dog tag, you may not be able to get all this information onto it. Just pick what you feel is important and go with it.
The Frisco Stainless Steel Personalized Dog ID Tag is made from stainless steel. This gives it a mirror-like finish and also the added advantage of being stronger than the aluminum used for normal tags.

The tag can take up to 4 lines of text on each side giving you a total of 8 lines of information. This allows you to engrave as much information as you want about your dog on this Dog Id tag. They also come in about nine different shapes and two different sizes. Made in the United States and come at a good price.
You can't get a better quality Dog Id Tag for the prize the Providence Engraving Pet ID Tags offers. Made with aircraft-grade aluminum, these Dog Id Tags are lightweight and have an anodized finish for longevity.

Having enough space for four lines of engraving on each side (engraving usually done with laser CO2 based). They come in eight different shapes, nine colors, and two sizes. Not best for active dogs as they will expose them to more wear and tear. You can not get a better bargain for dog Id tags than these.
With the Pawscout Smarter Pet Tag, you can keep track of your dog companion easily. With Bluetooth technology having a range of 300-feet between your dog and wherever the companion app is installed (usually your mobile phone). This tag has a battery life of about six months and is light and waterproof.

It is important to understand that Pawscout Smarter Pet Tag does not function as a GPS tracker. Instead of trying to pinpoint the exact location of your dog, it checks whether your dog is within the 300-feet range and if your dog leaves this radius of safety, you can easily liaise with other Pawscout Smarter Pet Tag users to locate possible areas where your dog may be.
Want a Dog Id Tag that is going to last for a very long time? The Red Dingo Bone Personalized Stainless Steel Dog Tag is just what you need. Made of hand-polished, sturdy, and buffed stainless steel. The front features an enamel inlaid bone coming in 10 different colors and the back can contain a maximum of six lines of information.

Speaking of information, this Dog Id Tag comes in 3 different sizes, the smallest measuring an inch and only being able to contain about 3 lines of information. The medium size measures 1.3 inches and being able to contain four lines of information and the largest size measures 1.7 inches and can contain 6 lines of information.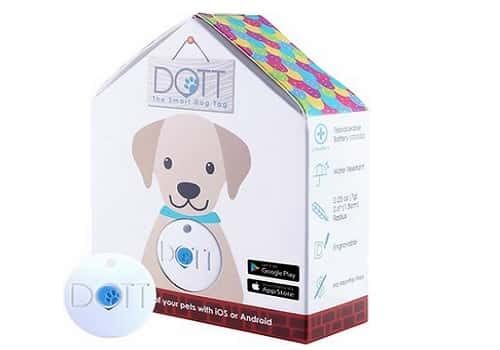 If you've got an active dog, chances are they may be in places where they are not supposed to be most of the time. With the DOTT Smart Dog Tag Tracker, you can keep track of your doggy companion and make sure they are where they are supposed to be or get them back most times.

It is made up of a tracker in your dog's Id Tag attached to their collar and paired with the DOTTPet app for apple devices. This tracker can cover an area of up to 384,844 square feet, way higher than the Pawscout Smarter Pet Tag. It also has the capability of pairing with other DOTT Smart Dog Tag Tracker users helping you to cover more range.

It doesn't matter which location you are at, whether in a moving car or high rise, you can still pick up the signal from your dog's tracker. It is also water-resistant, has a long battery life(6 to 9 months), and has Bluetooth and iBeacon technology. In layman's terms, there are no other hidden fees after you purchase this product. No subscription fees, activation fees, or monthly fees.

Just purchase follow the instructions and start using them immediately.
Some large dogs are such that living them with small Dog Id Tags makes them almost invisible. Having a bigger Dog Id tag that is more visible would help make it easier to get information out of the tap especially for those that might not want to touch the dog.

The Red Dingo Dog Id Tag achieves this purpose. Big enough to be easily seen. This tag as already mentioned is made of Stainless Steel which is hand polished and buffed giving it all the properties it needs to last a long long time.
Your petite dog deserves a Dog Id tag that is fitting of its statue. With the GoTags Personalized ID Tag, your small dog will not just be easy to identify when missing, everyone around would probably know your small dog's name with it.

It can take 4 lines of text on each side, comes in two sizes, and has a variety of colors to satisfy any choice you want.
THINGS TO CONSIDER WHEN PURCHASING A DOG ID TAG.
If you are still searching for something more unique for your dog, prepare to search through the millions and millions of products in the market (Trust us, we have done that, not fun). Here are some things to really consider when purchasing a Dog Id Tag.
DURABILITY.
How durable is this dog tag, how long do you think it's going to last. Remember that this tag is going to suffer a lot of abuse in its lifetime. Your dog would not treat it the same way you will treat your jewelry. There will be a lot of clinging and clanging of the tag on various objects both indoors and outdoors. We noticed that stainless steel tags do well in the long run but they are a bit noisy. Basically, you should consider your dog's temperament and lifestyle while choosing a Dog Id Tag.
HOW MUCH SPACE DOES IT HAVE FOR ENGRAVING?
How much information can the Dog Id Tag take? Some can take only two lines, some can take four. The more lines the better. Some need the information engraved and others need the information embossed. Engraved information seems to last longer than the embossed counterpart when you look at the accidents that may happen to the dog tag. Although this is not the norm, actually depends on the quality of the tag.
STYLE AND FEATURE.
Aesthetics can make the Dog Id Tag easily identified and serve its purpose mainly to give enough information out for the dog to get back to its owner. Is it a split ring or is it a slide-on? You also need to take into consideration your dog's daily activity. Ones that engage in swimming, agility training, or more outdoor activities would do well having a slide-on Dog Tag. A less active dog would do well with the normal dangling or split ring dog Id tag.
COST
Although Dog Id Tags are not usually expensive, it is always better to spend on the quality that would last more instead of buying one every now and then. Things like what type of material is used for the Dog Id Tag, the materials, features like apps, etc would determine the cost and probably how long the tag is expected to last.
Cute things to put on dog tags
Most times, putting the normal dog information on their Tag can seem boorish. As a fun-loving dog parent, you might be looking for a way to spice up the message. Here are some ideas for you. Hope you will love them.
1  Crap! I'm Lost. Have your People call my people
2. I Escaped! Hahahahaha
3. I Know am cute, but you can't keep me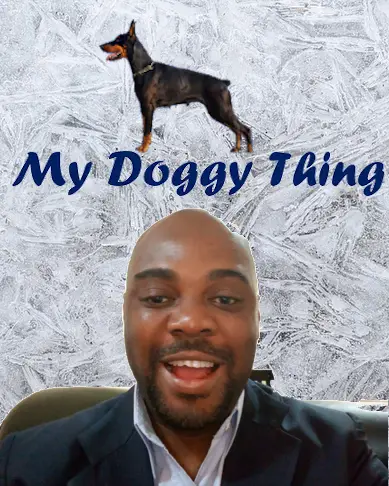 Hi, I am Charles Nwankwo Editor-in-Chief, Mydoggything.com. Gleaning from Professional Dog Trainers, behaviorist, Registered Veterinarians, and Breeders. We are passionate about making dog care easy for you. My job is to make sure that you get the best-updated dog care information to understand and take care of your dog or dogs.