So, you have been living with your dog "Fido" for some years now, she seems to get along with everyone in the family. There is no shortage of love and care where she is involved. She seems to have a structured life and as far as you can tell, every family member is involved with everything concerning her and everyone is playing their part.
Recently, you notice that Fido is not being responsive to you. She doesn't obey your commands and it even seems like she is avoiding you. As far as you can remember, you have not done anything bad to her, You think? Your little daughter seems to be doing a better job getting Fido to obey commands and bonding with her. This leaves you wondering "Why does my dog not listen to me?". "why is my dog suddenly ignoring me?"
The possible reasons for your dog not listening to you are:
1.You are miscommunicating with your dog.
2.You get angry easily.
3.Lack of Proper timing.
4.Not making out proper time for training.
5.Misuse of treats.
6.Your inability to commit.
7.You over-pamper your dog.
8.Scheduling your dog training outdoors only.
9.You are expecting too much.
.
Let's explain how each of these reasons makes your dog not listen to you.
.
1.You are miscommunicating with your dog.
Dogs and humans communicate differently, while we have the option of talking, making different sounds, and even gestures, our dogs are dependent on barking, visuals, and limited ability to express themselves. So while you may be expressing yourself voicing your commands passionately and giving out various gestures, your dog is likely interpreting the various sounds and gestures you are expressing wrongly.
We normally assume that we more we emphasize a particular thing, the clearer we are communicating. This may be true when communicating with another person, but when we do it with dogs, we are sending multiple signals that can be interpreted in a thousand ways by them.
A basic principle of dog training is to keep it simple. For example, if want your dog to stay in place, issue the "stay" command and make the open palm gesture down, If you want him to sit, issue the "Sit" command and point to where you want him to sit. This sounds simplistic but the aim is to minimize our talking or gestures when we issue commands.
Another point to bear in mind is, if you issue a command repeatedly and your dog is not complying, it is better to shift his attention to something else, this is because if you continue issuing the same command, you are only teaching your dog not to obey the said command.
Basically, make sure that each word you issue to your dog counts.
.
2.You get angry easily.
Most new dog parents are guilty of this and even some dog parents that have spent years with their dogs still fail in this area. The problem with getting angry is that our dogs are adept at reading physical gestures and their interaction with you when they notice you are angry is first confusion and then they enter into a defensive mode.
You see when you get angry, there is a high possibility that you will lash out at your dog, some people are even guilty of getting physical with their dogs when angry, this has been proven to get negative results every now and then. Dogs who are exposed to this kind of behavior end up not trying to understand the commands talk less of obeying them. They shut down totally as they believe that any action they take will make you angry.
So what do you do? Anytime you feel you are getting angry, give yourself a timeout immediately. Put some good distance between you and your dog. You see, as we said above, our dogs understand physical gestures well. Apart from this allowing you to cool down the message transmitted to your dog in this situation is clear. You do not appreciate whatever he or she is doing. When you come back to resume the training, there is a higher possibility that your dog won't repeat the behavior again as he or she begins to understand that it does not please you.
Be sure to reward actions you like as this will help the dog to start understanding things you appreciate and things you don't appreciate.
.
3.Lack of Proper timing.
People assume that when a dog obeys a command in a training session and they try to reward it, that this is proper training. They never take into consideration that at the time they give the treat the dog may be exhibiting bad behavior leading to your reward only encouraging bad behaviors.
Take this example, you are teaching your dog to sit down and he does so perfectly, now when you are about to reward him or her with a treat, you may find them jumping up to receive it. Now if your dog gets the treat in this way, all he or she is learning is that after sitting down, they have to jump up to you to receive their treat. This is bad timing and I suspect it is not what you want from your dog.
You see, the basic tenets of dog obedience and proper dog training are to reward what you want your dog to be doing and ignoring others. For example, if your dog comes of his own volition and sits by you, that is a perfect time to reiterate the sit command and reward him or her with the treats, if the treats are not readily available a simple petting of their backs and chest would do. The main thing is not to let the time pass without acknowledging it. If you have to get up and go into another room for the treats, the moment is lost.
Basically, you need to understand that teaching your dog things doesn't end in the training sessions. Every single time your dog comes close to you, he or she is taking some form of lesson from you. Be alive to this truth and take advantage of it.
.
4.Not making out proper time for training.
How is your dog going to listen to your if you do not take time to teach them what it is you want? Some dog parents just come up at random times and think they can snap their fingers at their dogs and he or she would immediately follow through with their expectations, like some fairy tale.
Well, unfortunately for them, they get to find out that things don't work that way. At the very least, there needs to be some bond between you and your dog before they try to do anything for you. This means that even though your dog is very receptive to the idea of doing what you want them to, they still need to be sure of their safety around you.
One of the ways in which you can easily build a bond with your dog is to have a scheduled daily time for them, even if it is as small as thirty minutes. Your dog gets to understand that this time is for both of you and would willingly accept this as the way to interact with you. During this period, you can show them things you want them to be doing around you, so in the long run, if you should issue a command or call them out suddenly during the day, the command you issue would not be strange to them and the possibility of them doing what you want is very high.
.
5.Misuse of treats.
Dog treats are good and work wonders when used for rewarding dog behaviors we like, but their use can be easily abused. This can be in form of giving them excess treats. Giving your dog excess treats have other disadvantages like making your dog not eat at the appropriate time, obesity, treat dependency, and other health-related problems but we would concentrate on how the misuse of treats leads to your dog not listening to you.
First of all dog parents who use treats regularly for their dogs find themselves looking for better and tastier alternatives as their dogs tend to reject treats they have become accustomed to and hence making their training sessions harder. There is also the case of those who want to control all aspects of their dog feeding and hence revert to natural food as treats for their dogs. Although the intention behind this is commendable, some of the treats offered for example "a large chunk of watermelon" would take a long time to consume and in the end, your dog might not even remember why he or she was given a treat.
The best approach for treats should be moderate use and more importantly given in small chunks. This not only makes it faster for the dog to consume, but it also allows you to immediately begin another bonding session or training session with them and reduces the possibility of them getting tired of your treats quickly.
.
6.Your inability to commit.
This goes hand in hand with no. 4 reason – Not making out proper time for training. You see even if you have set up a schedule for your dog but you are unable to commit to it at least for long periods of time at a stretch, all this communicates with your dog is that there is something more important to you than he is. If your dog keeps getting the message that he or she is of low importance in your life, how committed do you think they would be to learning things from you?
You see, dog parents that commit to a schedule for a stretch of time for example two months or more, and later break the schedule find that they have a better chance of rebuilding their bond with their dog and communicate better than those that have an erratic schedule, for example, two days on schedule and four days of schedule. It is the nature of our dogs, they like and appreciate consistency in things they do and that ranges from eating, sleeping, exercising, playing, and more.
So you want your dog to start listening to you? Commit to your schedule with them more and you will definitely start seeing results in the long run.
.
7.You over-pamper your dog.
If your dog gets the best food any dog could want, at his own time, gets that back and chest rub he wants, at his own time, the exercise he needs at his own time, the playtime he needs at his own time, the sleep he needs, the treats, etc. What makes you feel that he or she would be willing to follow your lead? There is nothing there for him or her. It's like giving a billionaire a nine-to-five job as a reward. You see the joke right.
The best way to deal with such a situation is to take back full control of the things your dog is dependent on, this includes but is not limited to what they eat, where they eat, where and how they are allowed to move, how they are rewarded, etc.
When he realizes that the choice of these things is not his or hers to make, they will become more receptive to your guidance and commands.
.
8.Scheduling your dog training outdoors only.
Most dog parents believe that training their dogs at the scheduled time is the best way to get their dogs to learn. Most would opt for an open space like their backyard or even a public park. The sad truth is that it is hard to begin the training of your dog in these kinds of places.
Dog training should be started in a place where there is no distraction, a place where your dog's focus would only be on you. The only place that fits into this definition properly is inside your house. Yes, inside your house, not the backyard, not the roadside, not the public park but in your house. It is only after they have mastered a command or training that you start taking them outside.
You see when you begin the training outdoors, you expose your dog to lots of events competing for their attention with you. There might be kids running around, cats infiltrating their territory, squirrels running around in the park, car and human noises from outside the backyard, an interesting scent they got a whiff of, the list goes on and on. There is a high probability that these things are going to be more interesting to them than anything you are currently proposing so why focus on you?
Another thing to keep in mind is that your dog learning or listening to you is contextual. This simply means that they have to learn the same command in different scenarios before they can fully understand it.
To summarize this part, start the training indoors and take it outdoors when you want to add some variety to your communication or training.
.
9.You are expecting too much.
Are we not all guilty of this. We expect so much from our dogs in terms of adhering to our whims and calls every now and then. We have so many adverts and pictures that paint a beautiful almost fairytale-like image of what it's like to live with a dog, but unfortunately for us, our dogs are not like that.
Our dogs are animals basically, their natural instinct is to bite and jump on each other. They would destroy your clothing and furniture if left to their natural whims. They would rather urinate and defecate in the house because this is their territory. So if your dog is not doing all these, it means that they are already displaying enough restraint.
If you want your dog to behave the way you expect them to, you would need to put in some serious time and effort. You should understand that your dog is already putting in extra effort to bond with you and if you want to see results, you should put in an equivalent amount of effort in learning and understanding them in order to bridge the communication gap between you two.
Since we now understand why your dog may not be listening to you even though they might be listening to some other person. The next question should be how do I get him or her to listen to me. We will try to summarize the answer so that you can quickly start working on getting your dog to listen to you.
---
HOW TO GET MY DOG TO LISTEN TO ME.
i.) Begin with the basics
As it is now, there are so many possible reasons why your dog is not listening to you. You may suspect some of the reasons but you are still not sure, so the best way to begin the bonding and training process is to start with the basic training. Begin as if you are dealing with a newly adopted dog. In a sense, this is like speaking a foreign language slowly. If you do a good job, the foreigner should be able to understand what you are trying to say and move on with the communication. If you are lucky, your dog may already be conversant with some of the commands speeding up the process.
ii.) Reduce their energy level
Dogs with high energy levels are hard to communicate with. Depending on the dog, you may start off with a small walk around the neighborhood or a run. Whatever you can do to reduce their energy level, go for it. A dog with less energy to dissipate will be more receptive to any training you give him or her.
Compare it to taking a kid to a playground. On reaching there, they are almost out of control wanting to play with everything they can get their hands or feet on, they seem uncontrollable at the beginning, but give them a while and the same kid would run back to you or try to get your attention to whatever they are doing then. Communicating with them at this point is likely to yield a better result than if you started giving orders at the very beginning.
iii.)Keep to schedule
You are currently trying to rebuild a relationship with your dog so that they would start listening to you again. Make sure to keep to whatever schedule you have decided on. Nothing would kill getting your dog to listen to you faster than missing out on the newly allocated time you have chosen for the bonding.
Imagine keeping a lady stranded on the first date, there is a very high possibility that the relationship you are trying to build will end even before it has a chance of starting.
iv.) Be mindful of your expressions
When dealing with your dog, your need to exude an energy that says I am in control of everything around me at this moment. Carry yourself in a calm, confident, and assertive manner. If you give off an energy of being unsure and lacking confidence, your dog is likely going to pick up on that body language and wouldn't be following through with you on any command you give in this state.
v.) Be mindful of your dog's emotional state.
Sometimes, your dog is not just up for the bonding at that moment, they may be tired, they may be feeling sad, they may be depressed, or just feeling ill. Hanging around each other and just enjoying a quiet time might be what is needed at that moment. Of course for dogs that are ill, you would need to get some medical assistance, the main point is to try and be more watchful of the physical expressions your dog gives of and deal with them accordingly.
vi.) Introduce physical cues to your commands
Since you are trying to initiate communication and bonding all over again, starting with some physical cues at this stage is not a bad thing. You may not need to use these cues in the long run, but anything that can help your dog to understand what is expected of him or her at this stage is welcome. Your dog does not understand human language, all your dog can decipher at this moment is that a particular range of sound from you is supposed to mean something and small physical cues can help them to pick up the command earlier on.
---
IN CONCLUSION
Your dog not listening to you is basically about the lack of bonding and communication between you two. You are now loaded with information on why your dog wasn't listening to you and more importantly how to get them listening to you again. So what are you waiting for? You better start working on your dog and get them listening to you.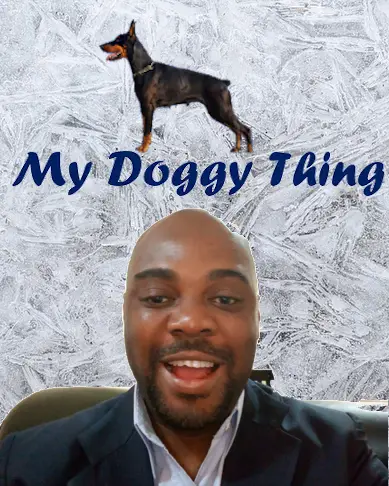 Hi, I am Charles Nwankwo Editor-in-Chief, Mydoggything.com. Gleaning from Professional Dog Trainers, behaviorist, Registered Veterinarians, and Breeders. We are passionate about making dog care easy for you. My job is to make sure that you get the best-updated dog care information to understand and take care of your dog or dogs.