WHOLE WHEAT AND PEANUT BUTTER BISCUITS - HOMEMADE DOG TREATS
Access Our Easy Homemade Dog Treats You Can make for your dog in a matter of minutes at Home
Dogs simply find peanut butter irresistible, when mixed with whole wheat, you get that special treat that keeps your dog's tail wagging all day long. To make about ten to twenty pieces of Whole Wheat and Peanut Butter Biscuits for your dog or dogs follow the directions below.

Ingredients
A CUP AND A HALF OF STONE-GROUND WHOLE WHEAT FLOUR.
ONE CUP OF ALL-PURPOSE FLOUR
HALF CUP OF DRY OR POWDERED MILK.
HALF CUP OF QUICK-COOKING OATMEAL, PLUS EXTRA FOR SPRINKLING
HALF A CUP OF SMOOTH PEANUT BUTTER.
TWO TABLESPOONS OF TOASTED WHEAT GERM.
ONE EXTRA-LARGE, LIGHTLY BEATEN EGG.
ONE EGG BEATEN WITH ONE TABLESPOON OF WATER FOR EGG WASH.
ONE CUP OF WATER.


Utensils
ELECTRIC MIXER FITTED WITH PADDLE ATTACHMENT
ROLLING PIN
BOARD
COOKIE CUTTERS
How to make Whole Wheat and Peanut Butter Biscuits for dogs.
First, preheat your oven to about 325 degrees centigrade and line one of your sheet pans with parchment paper.

The second step is to mix the other ingredients, the powdered or dry milk, oatmeal, two flours combined, peanut butter, and wheat germ till it forms into a slightly sticky ball. This you do with an electric mixer fitted with the paddle attachment.

The third step is to dump the dough on a board floured with all-purpose flour and knead it into a ball.

In the fourth step roll the dough till it is about half an inch thick.

The fifth, dip rolled-out dough into a cookie cutter of choice. Whatever excess remains, gather together and make out more cookie shapes till you have utilized all the dough.

In the sixth step, place the cut-out biscuit on the sheet pan prepared in step one, and brush with the egg wash.

Finally, sprinkle oatmeal and bake the biscuit till it becomes completely hard, and then allow it to cool.

This treat can be served to your dog in any way you want, feed with your hands, toss on the floor, place in a bowl, etc.
Access Our Easy Homemade Dog Treats You Can make for your dog in a matter of minutes at Home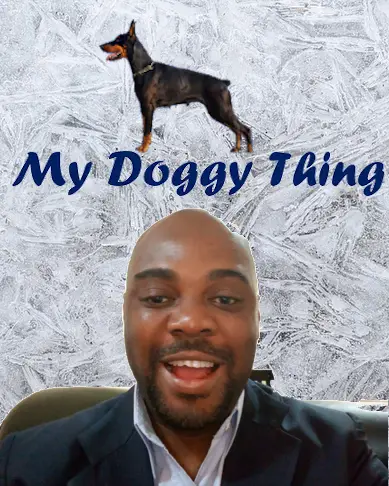 Hi, I am Charles Nwankwo Editor-in-Chief, Mydoggything.com. Gleaning from Professional Dog Trainers, behaviorist, Registered Veterinarians, and Breeders. We are passionate about making dog care easy for you. My job is to make sure that you get the best-updated dog care information to understand and take care of your dog or dogs.